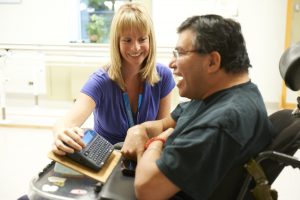 Just like hospitals and universities across the country, we are monitored by outside bodies to ensure that our residents receive the very best care and services.
Actionmarguerite is pleased to be at the forefront of care delivery in Manitoba, having met or exceeded all best-practice standards and measures set out for compliance.
Our staff strives to meet and exceed Accreditation Canada's national quality standards for long-term care and Manitoba Health Standards for personal care homes. We group our accommodations and care programs according to resident needs and their required level of care. Our staff has the training to adapt care strategies and services as the needs of the residents change.
Accreditation Canada
Actionmarguerite programs undergo an independent certification process on a regular basis. Staff, facilities and policies are reviewed by Accreditation Canada to ensure we are meeting best-practice standards established for the personal care field. Visiting surveyors note our strengths, evaluate our progress and suggest areas for improvement.
Manitoba PCH Standards Review
Personal Care Homes (PCH) operating in Manitoba must also meet the provincial government's standards of care. Within these standards are a number of performance measures to guide staff training and policy development. The Manitoba government conducts on-site reviews of Actionmarguerite facilities every two years.
Before the Minister of Health will grant a PCH its operating license, all standards must be met, or remedial action taken to meet these standards. The License to operate a PCH is issued for the calendar year and must be posted in a public location at the entrance to the home.
For more information, read about the standards of care.