Please see our Guide to visiting Actionmarguerite for information on current visit restrictions
We welcome visitors every day including holidays
Visitors are welcome at Actionmarguerite. In fact, we encourage you not only to visit but also to participate in many of the activities we offer. After regular work hours our main entrance doors are locked and you must use the intercom to gain access to the residences.
We do ask, that you do not visit if you have a cough, fever, runny nose, flu symptoms or another contagious disease. Adults must accompany children at all times.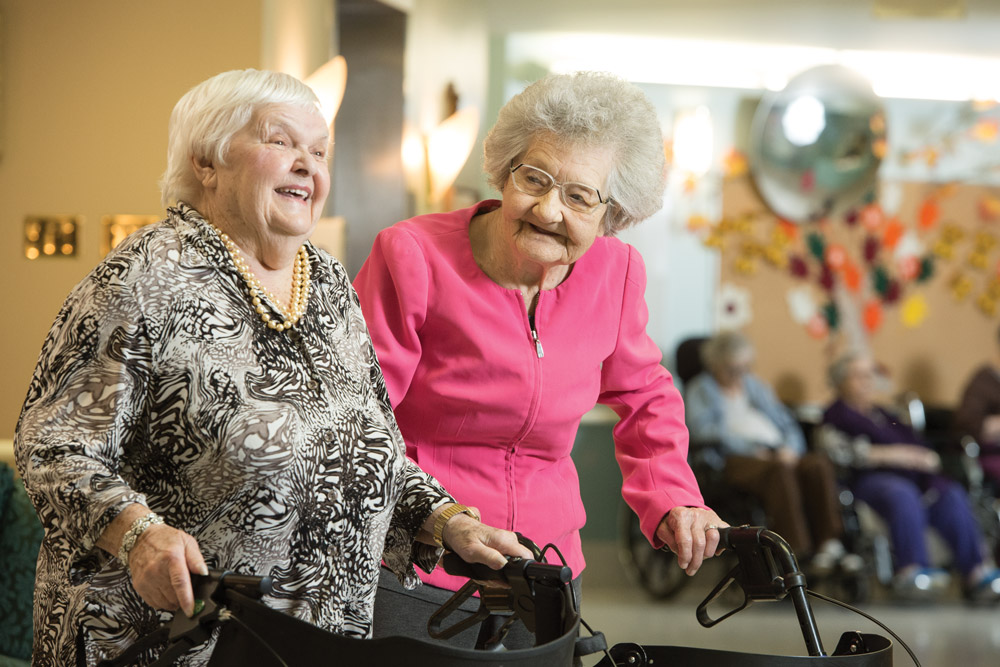 Visitors' parking
Free parking is available in designated areas on a limited basis. Designated handicapped parking is also available at most locations. Street parking is available with some restrictions.
Bus Service
Winnipeg Transit offers service to all Actionmarguerite locations. For more information on routes and schedules, please visit the Winnipeg Transit website.
185 Despins Street 10, 56, 110
450 River Road 16 (Plaza Dr.), 54 (St. Amant)
187 de la Cathédrale Avenue 10, 56, 110
875 Elizabeth Road 19
1149 Leila Avenue 17, 77
Cafeteria
Come dine with your loved ones. Cafeteria service is available at 185 Despins Street and a limited food service for families is available at 450 River Road. At 1149 Leila Avenue, family and friends can join residents at meal times in the designated areas (auditorium) or in Baba's Dining Room and purchase a meal from the daily menu. Please give us advance notice.
Hours of operation:
185 Despins Street: 8:30 am – 4:30 pm
450 River Road: 9:00 am – 4:00 pm, 5:30 pm – 7:00 pm
1149 Leila Avenue: meal times are at 8:00 am, 11:30 am and 5:00 pm
How to find us
185 Despins Street Google Map / Street View
450 River Road Google Map / Street View
187 de la Cathedrale Avenue Google Map / Street View
875 Elizabeth Road Google Map / Street View
1149 Leila Avenue Google Map / Street View
Religious Services
Family and friends of our residents are welcome to join in regular religious services held on-site at the following times:
185 Despins Street
Mass – 10:30 am, Tuesdays, Thursdays and Sundays
Inter-Denominational Worship – 10:30 am, 2nd Wednesday of the month
Smudging Ceremony – 2:00 pm, 3rd Wednesday of the month
450 River Road
Mass – 11:00 am, Wednesdays; 2:30 pm, Saturdays
1149 Leila Avenue
Anglican Service
1st Wednesday monthly
4th Wednesday monthly
11:00 am
St. Peter's Church Roman Catholic Mass
2nd Wednesday monthly
2nd, 3rd, 4th, and last Friday monthly
11:00 am
St. Peter's Church Roman Catholic Mass
Every Saturday
4:00 pm
Polish Roman Catholic Mass
2nd Monday monthly
11:00 am
Portuguese Roman Catholic Mass
1st Wednesday monthly
11:00 am
Ukrainian Divine Liturgy
1st Friday monthly
11:00 am
Roman Catholic Mass
1st, 3rd, and 4th Monday monthly
11:00 am
Gift Shop
The Ladies Auxiliary operates a Gift Shop at Actionmarguerite in St. Boniface at 185 Despins Street. Please check for shop hours as they may vary.
Hall Rental
Celebrate birthdays and special family events in our common areas at our Despins Street, River Road and Leila Avenue locations. At Actionmarguerite on Leila Avenue, Baba's Dining Room is available to rent for groups of six or less, and the Multi-Purpose Room can be rented for larger gatherings.
Smoking
Smoking is prohibited inside facilities and on Actionmarguerite property.